A Crypto Airdrop Mini Guide for Businesses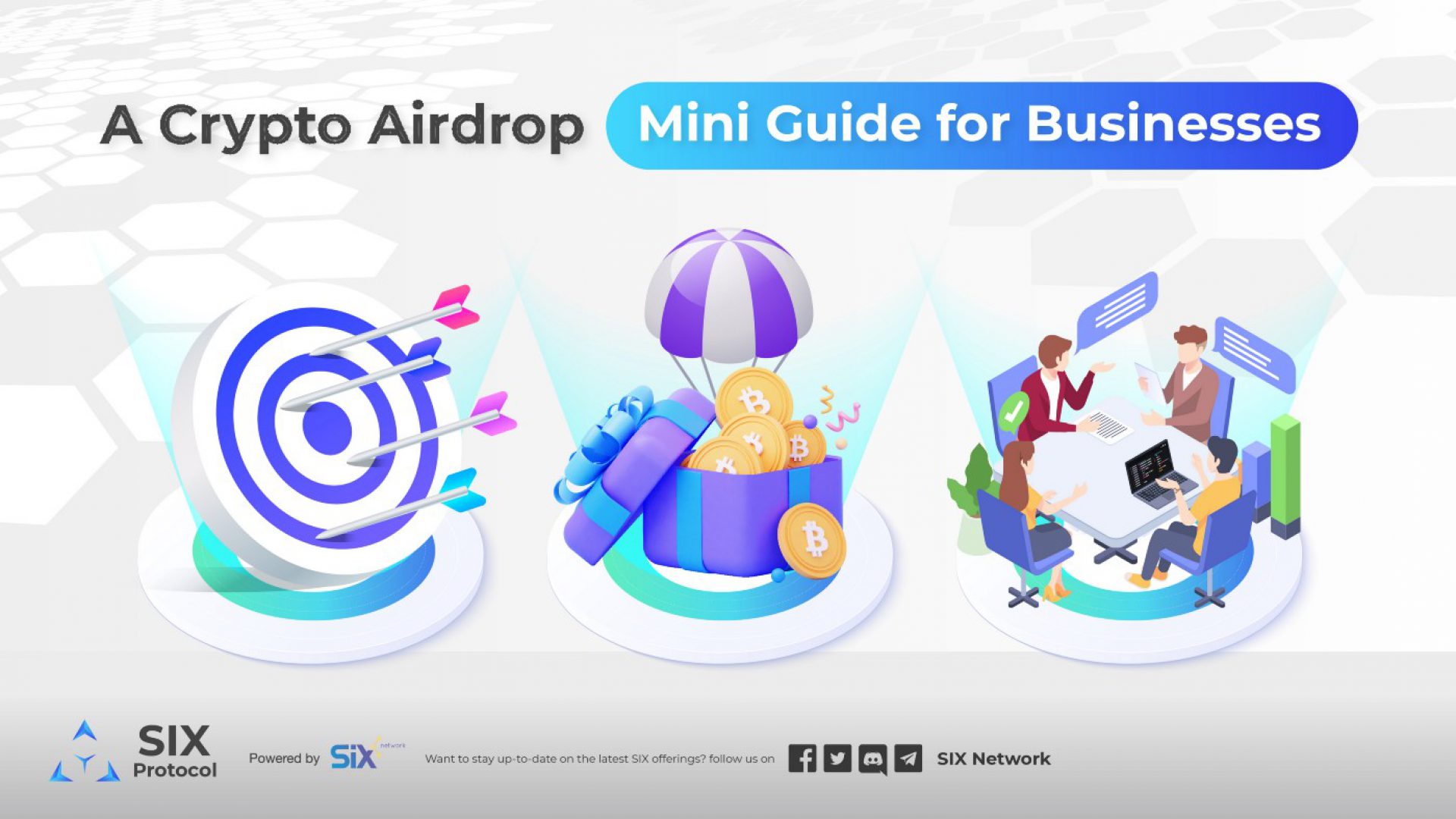 A Crypto Airdrop Mini Guide for Businesses
In the crypto world, one can enjoy many activities, whether you're completing tasks on social media for an NFT project's whitelist spot, joining community sessions, or hunting for free airdrops.
Today, SIX Network wants to dive into what you need before doing crypto airdrops. So let's get into it!
What is a Crypto Airdrop?
A Crypto Airdrop involves blockchain-based projects such as a #DeFi platform or an #NFT project sending out free tokens to potential users, community members, or users who completed a particular step in the platform to increase awareness of the project.
Today, Crypto Airdrop is still one of the most popular marketing strategies used by various Web3 projects worldwide.
Why do you need to consider doing airdrops?
As crypto airdrops allow projects to shine in the light and gain awareness in the crypto space, it is also considered a gateway for users to get to know the project and the token better.
However, it is crucial to note that doing airdrops might come with many challenges that a project needs to overcome, such as scammers and the use of bots.
How do you make sure you're doing a crypto airdrop activity right?
 ✓ Know your goal
Like any project or campaign in the world, one of the most crucial aspects is the user experience and the goal of your airdrop activity.
For example, if your campaign objective is to increase the number of long-term holders, you might consider finding DeFi partners that can co-launch a staking pool for your token.
Then, once the airdrop activity is completed, you can recommend the users to stake their tokens and earn some passive income instead of letting them sell all their newly dropped tokens.
 ✓ Create an activity for your audience
When it comes to crypto airdrop, one of the essential processes is to develop a set of missions or tasks users must do to participate in the activity. These missions will be one of the first impressions you're making to your potential audience that has not yet learned about your project.
If a project can craft a set of tasks that are engaging and not too hard to complete, it might impress users to go ahead and learn about your project. But, at the same time, complex missions might draw the interest away from users, especially crypto newbies.
With SIX Protocol's growth tool, "SIX Zone," which is specifically developed to help projects manage community activities, you can rest assured that your next airdrop activity or other community activities such as whitelist management or missions tracking will be smooth for your users and participants.
 ✓  Reach individuals from different parts of the world through hashtags "#"
It goes without saying that Twitter is one of the most significant social platforms for crypto enthusiasts. So many interesting and educational things are happening there, but so are crypto airdrops!
If you're not familiar with Twitter, we heard that @thesixnetwork is a good account you should start following 😉
One of the most important tips is to utilize Twitter for your airdrop activity to the fullest through hashtags. Hashtags represent topics, interests, or trends that are happening around the globe. Twitter users use hashtags to find the conversation or content that they prefer. With crypto airdrops, of course, many people are looking through different hashtags to find the activity to participate in.
Here's an example from an airdrop activity that we did with Z7DAO, 77 Z7DAO Airdrop, which got over 800+ retweets and liked with more than 10,000 impressions.
If you made it to this point, you must be excited to join an airdrop activity or even host one yourself! Don't know how to start? Why not hit us up?
Suppose you're interested in learning more about how to create a successful airdrop activity or exploring ways you could utilize all the things mentioned in this article; feel free to contact our team at SIX Protocol here: https://bit.ly/contact-sixprotocol
Don't miss out follow us at: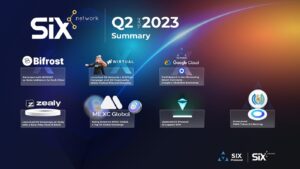 Table of Contents Introduction Welcome to the Q2 2023 recap of SIX Network. This quarter, SIX Network has made impressive progress
Read More