SIX Network Launches Individual Node Program Round 2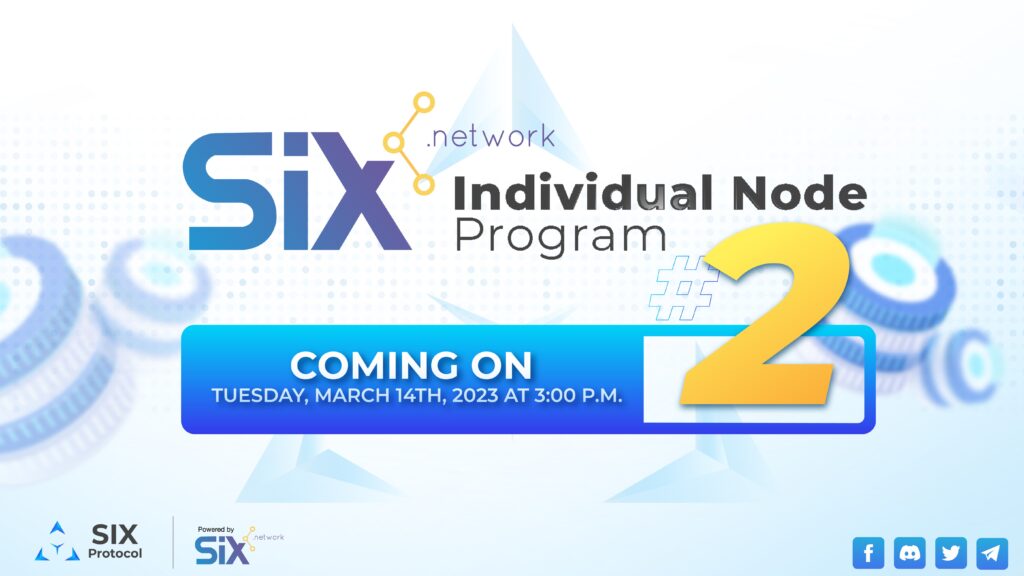 SIX Network is launching the second round of the SIX Individual Node Program, which will open for joining to become a node on Tuesday, March 14th, 2023, at 3.00 PM BKK time (GMT+7) on the SIX Protocol Website. This program provides an opportunity to participate in the SIX Protocol network by running a validator node and earning SIX tokens as a reward.
The first round of the SIX Individual Node Program, which took place on March 10th, 2023, was a big success, with all 100 available nodes being filled up within just 6 minutes. This level of interest and demand shows the strong community support for the SIX Network and the potential of the SIX Protocol.
However, many people were unable to participate in the first round due to the limited number of nodes available. In response to this, SIX Network has decided to launch a second round, giving more opportunities to participate and benefit from the rewards of being a SIX Individual Node.
SIX Individual Node Program Round 2 will be open on Tuesday, March 14th, 2023 at 3.00 PM BKK time (GMT+7) on the SIX Protocol Website. It's important to note that there are still only 100 nodes available, so interested participants should act quickly to secure their spots.
To become a SIX Individual Node, participants will need to stake an initial deposit of 20,000 SIX tokens, with 2–3 SIX Tokens as a Gas Fee, and follow the instructions
Read more about the SIX Individual Node https://medium.com/six-network/six-network-launches-individual-node-program-72aed4bf0065
Benefits of joining a SIX Individual Node
SIX Network has launched an Individual Node Program that allows participants to earn rewards while contributing to the network's security and performance.
Here are some of the benefits of running an individual node on the SIX Protocol:
• Earn rewards: Participants who run a validator node can earn SIX tokens as rewards. The more their node contributes to the network, the more rewards they'll receive.
• Get a free one-year subscription to SIX Name Service (SNS). This service gives you a unique name with 6-25 characters and a .six extension. 
• Better network security: Validator nodes play a crucial role in the SIX Protocol's proof-of-stake consensus mechanism, so running an individual node helps secure the network and prevent fraud.
• Be involved in network operations: Running an individual node lets participants join in the network's operations and contribute to its growth and development.
Please keep in mind that these rewards are just the start, and we may include more in the future. Moreover, you can enhance your opportunities to earn rewards by joining several nodes. For instance, if you hold 100,000 SIX tokens, you can apply to five different nodes.
How to Participate in the Individual Node Program
Before you can participate in SIX Protocol's Individual Node Program and start earning rewards, you need to do a couple of things to prepare.
First, you'll need to bridge 20,000 SIX tokens from other chains (BNB, Stellar, Klaytn) to SIX Protocol Chain by following the instructions here or watching the video guidelines on How to Bridge here.
Once you've done that, you can follow these easy steps to become a node here.
By following these simple steps, you'll be contributing and earning rewards through the Individual Node Program.
If you need any help or have any questions, don't hesitate to contact our support team on Discord by opening a support ticket.
*Please keep in mind that investment is risky so investors should carefully study the information before making a decision to invest.
You can get news and information about SIX Network here:
SIX Network Official Medium: https://medium.com/@sixnetwork
SIX Network Official Website: https://six.network/
SIX Protocol Official Website: https://sixprotocol.com/
Facebook: https://www.facebook.com/thesixnetwork
Twitter: https://twitter.com/theSIXnetwork
Discord: https://discord.com/invite/5gJQCXzcWf
Linktree: https://linktr.ee/Sixnetwork
Don't miss out follow us at: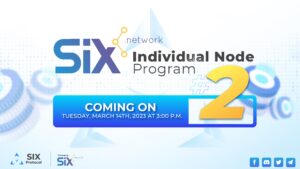 SIX Network is launching the second round of the SIX Individual Node Program, which will open for joining to become
Read More