SIX Network Q2 2023 Summary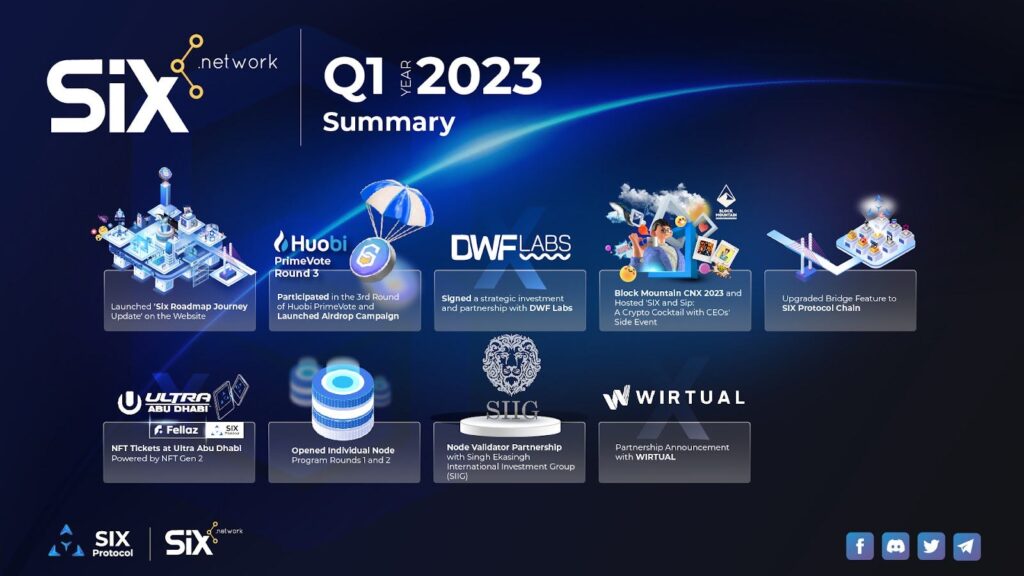 Introduction
Welcome to the Q2 2023 recap of SIX Network. This quarter, SIX Network has made impressive progress by announcing partnerships, participating in an event, launching giveaway campaigns, updating SIX Protocol EVM, and being listed in the top global exchange.
Are you ready to explore these exciting developments and the progress made by SIX Network? Let's get started!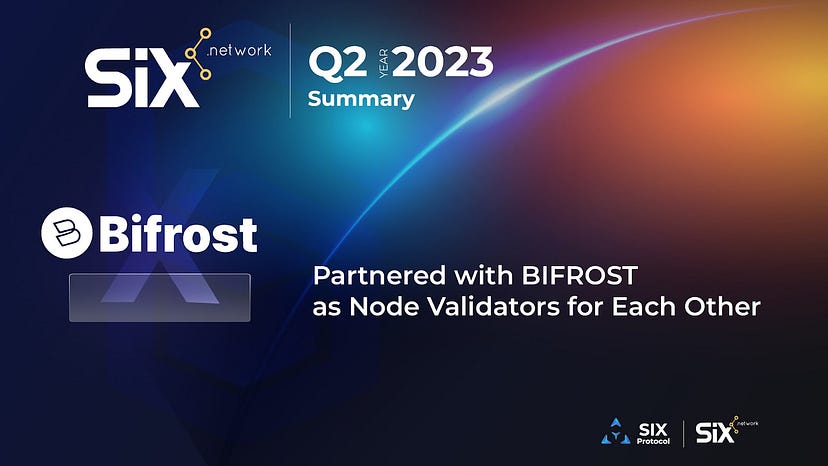 Partnered with BIFROST as Node Validators for Each Other
SIX Network and BIFROST, two leading blockchain network service providers in Thailand and Korea, are in partnership as each other's Node Validators. This partnership is significant as both companies have a shared goal of promoting the adoption of Web 3.0 solutions.
It also creates new opportunities for cross-chain interactions, allowing users to leverage the strengths of the SIX Protocol and BIFROST Network. Ultimately, this partnership will enhance the blockchain ecosystem and encourage the adoption of decentralized applications (DApps) and other blockchain-based services.
Read more at SIX Network and BIFROST Have Partnered as Node Validators for Each Other
Launched SIX Network x WIRTUAL Campaign and SIX Community Water Festival Discord Giveaway
WIRTUAL and SIX Network have partnered to launch the "SIX Network x WIRTUAL Campaign" in which users can receive an exclusive NFT SIX Street Hoodie +3 (Walking type) and have the chance to win over 99 SIX tokens, along with 99 prizes. This campaign was created to celebrate Songkran with WIRTUAL as a strong partnership.
Additionally, SIX Network launched a side campaign, the "SIX Community Water Festival Discord Giveaway," where users can participate for a chance to win over 30 prizes, each worth $2.
By creating a welcoming community that encourages joyful engagement, the campaign brings people together and strengthens their connection to SIX Network. This cultivates brand loyalty and motivates participants to share their positive experiences, generating positive word-of-mouth.
Read more at SIX Network x WIRTUAL Campaign and SIX Community Water Festival Discord Giveaway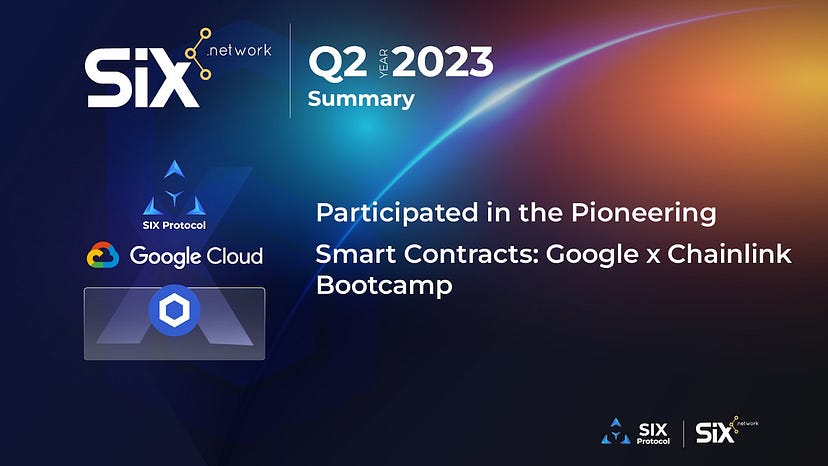 Participated in the Pioneering Smart Contracts: Google x Chainlink Bootcamp
SIX Network has participated in the Chainlink Bootcamp, which provides an introduction to smart contract development, an overview of Google Cloud Platform (GCP) services, Chainlink fundamentals, and Solidity programming. SIX Network showcased NFT Gen 2 in the booth and shared in a speaker session on the topic of "Implementing Blockchain and NFTs for Business with SIX Protocol" by Mr. Nantanart, Team Lead Developer, and Mr. Thanakorn, Business Development Manager.
By sharing expertise and insight, SIX Network further establishes as a thought leader in the industry and showcases knowledge and experience in leveraging blockchain and NFTs for business purposes. This enhances the reputation and positions them as a trusted authority in the field, potentially attracting new clients, partners, and opportunities for collaboration.
Read more at SIX Network is joining the Pioneering Smart Contracts: Google x Chainlink Bootcamp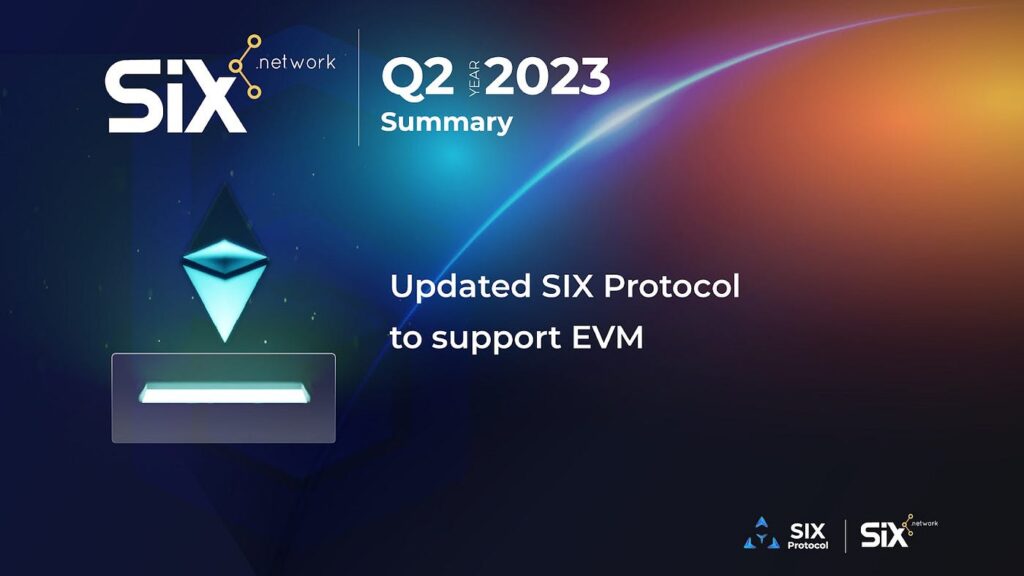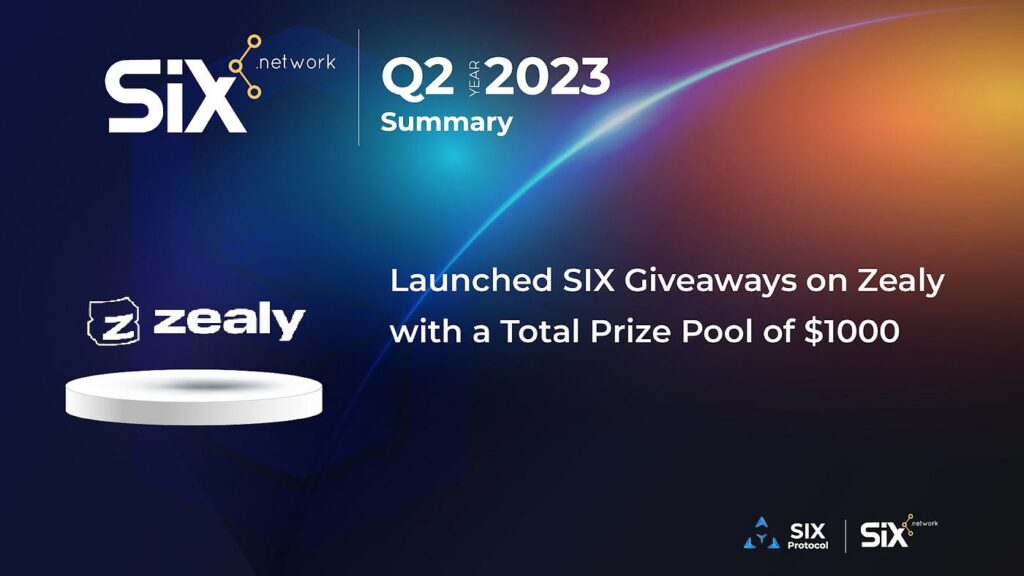 Launched SIX Giveaways on Zealy with a Total Prize Pool of $1000
SIX Network launched SIX Giveaways on Zealy, which worldwide participants can join and get a chance to win prizes. The giveaway consists of three rounds, taking place from May 29 to June 25, 2023. The Prizes pool is $1000. This campaign is to engage with a global audience and increase awareness of SIX Network on a global level.
Moreover, SIX Network has launched another Zealy Quest giveaway in collaboration with Stocker DAO. Participants can join and get a chance to win 3 USDT for 6 lucky winners. The giveaway involves a quest that connects SIX Zone, a social media marketing tool from SIX Network that bridges the gap between Web 2.0 and Web 3.0.
This campaign aims to engage a global audience and raise awareness of the brand on an international level. In addition, the collaboration with Stocker DAO for the Zealy Quest giveaway connects SIX Network's products with the partner project, fostering collaboration and offering benefits to both entities. These initiatives strengthen community engagement, increase brand visibility, and contribute to the growth and expansion of SIX Network.
Read more at SIX Giveaways on Zealy with a Total Prize Pool of $1000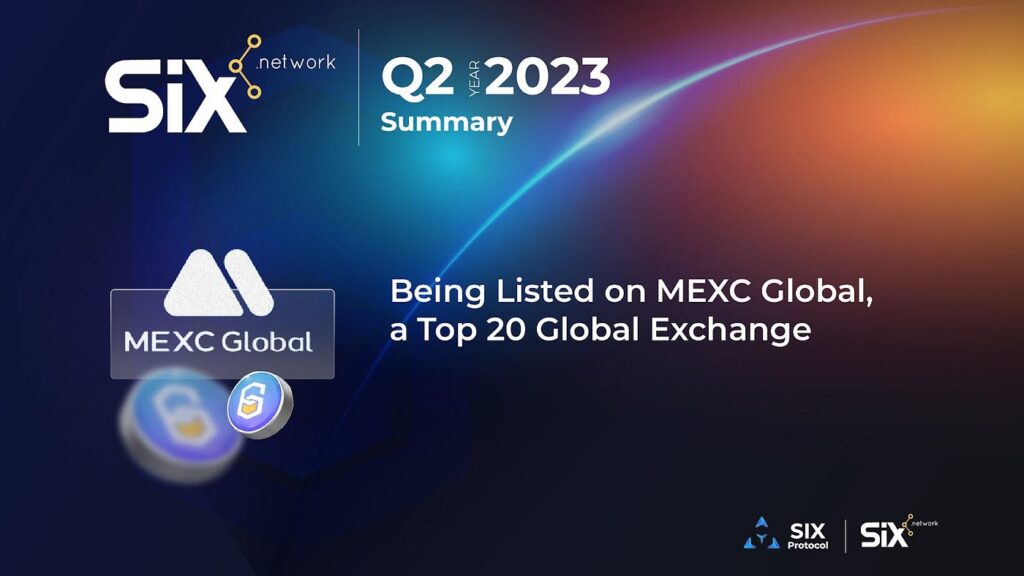 Being Listed on MEXC Global, a Top 20 Global Exchange
SIX Network announced the listing of its Token, $SIX, on MEXC Global, a leading cryptocurrency exchange with a user base exceeding 10 million people from over 170 countries. The listing of the trading pair SIX/USDT is scheduled for June 7th, 2023 at 08:00 UTC [15:00 GMT+7].
The listing expands the global presence of SIX Network. This increased accessibility and attract a wider range of investors to engage with SIX Network ecosystem. Additionally, the listing increases liquidity for SIX tokens, enhancing their marketability and facilitating price discovery. Overall, this listing strengthens the visibility, reach, and potential growth of SIX Network in the cryptocurrency market.
Read more at SIX Token is Listing on MEXC Global, a Top 20 Global Exchange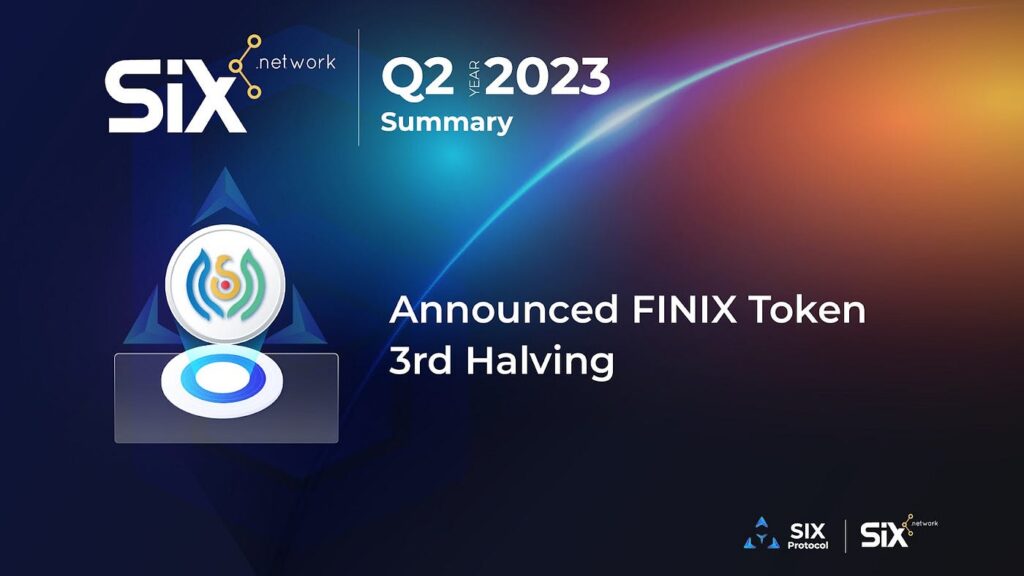 Announced FINIX Token 3rd Halving
Definix announced the third halving of the FINIX Token, effective on 21 June 2023 at 2:00 P.M. GMT+7). During this halving event, the emission rate of FINIX will be reduced by 50%. This halving event has played a crucial role in controlling token creation and enhancing the token's scarcity and long-term value.'
Read more at FINIX Token 3rd Halving
Summary
In the second quarter of 2023, SIX Network achieved some developments. The highlight is the update of SIX Protocol to support Ethereum Virtual Machine (EVM), enables expanded capabilities for decentralized application (DApp) development, and enhances interoperability with BNB Smart chain and Ethereum chain. The launch of SIX Giveaways on Zealy engages a global audience and increases awareness of SIX Network. Moreover, the listing of the $SIX token on MEXC Global expands global presence, attracts investors, and enhances liquidity. These achievements strengthen community engagement, visibility, and potential growth for SIX Network.
Be part of the SIX Network Community here!
Don't miss out follow us at: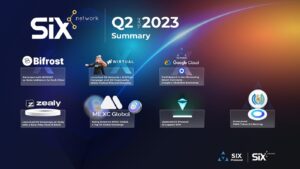 Table of Contents Introduction Welcome to the Q2 2023 recap of SIX Network. This quarter, SIX Network has made impressive progress
Read More