SIX gets listing on

Aims to be the pioneer in the digital world to integrate blockchain in daily life.

SIX is launching new features with the focuses of four key areas to meet the needs of the new generation users.

Seamless Communication

Financial services

Route to Market

Creator's Platform
---
Single Wallet for all your digital assets
SIX network uses blockchain technology and smart contract to reinvent the digital economy by building a better infrastructure; SIX Digital Asset Wallet, Decentralized Financial Services, and Wallet-to-Wallet (W2W) Decentralized Commerce. With this economic infrastructure, SIX is creating an ecosystem that is transparent, fair, secured, and efficient for all stakeholders in the digital and creative economy.
Financial Services

Digital banking for the creative industry; such as Smart Payroll System, Short-term business liquidity and Assets to loan solutions.

Digital Asset Wallet

More than just a wallet for cryptocurrencies, but a single point of entry for your contents, media, IP, loyalty and more.

Decentralized Commerce

New paradigm of 'no middlemen' commerce. First Wallet to Wallet commerce semantically connecting creators to end-users.
---
SIX was originated from 'one' of the largest digital media startup groups in Korea and Thailand, OOKBEE U Company Limited and Yello Digital Marketing Global PTE LTD. The alliance is creating a more transparent, fair, secured, and efficient ecosystem for all stakeholders in the digital and creative economies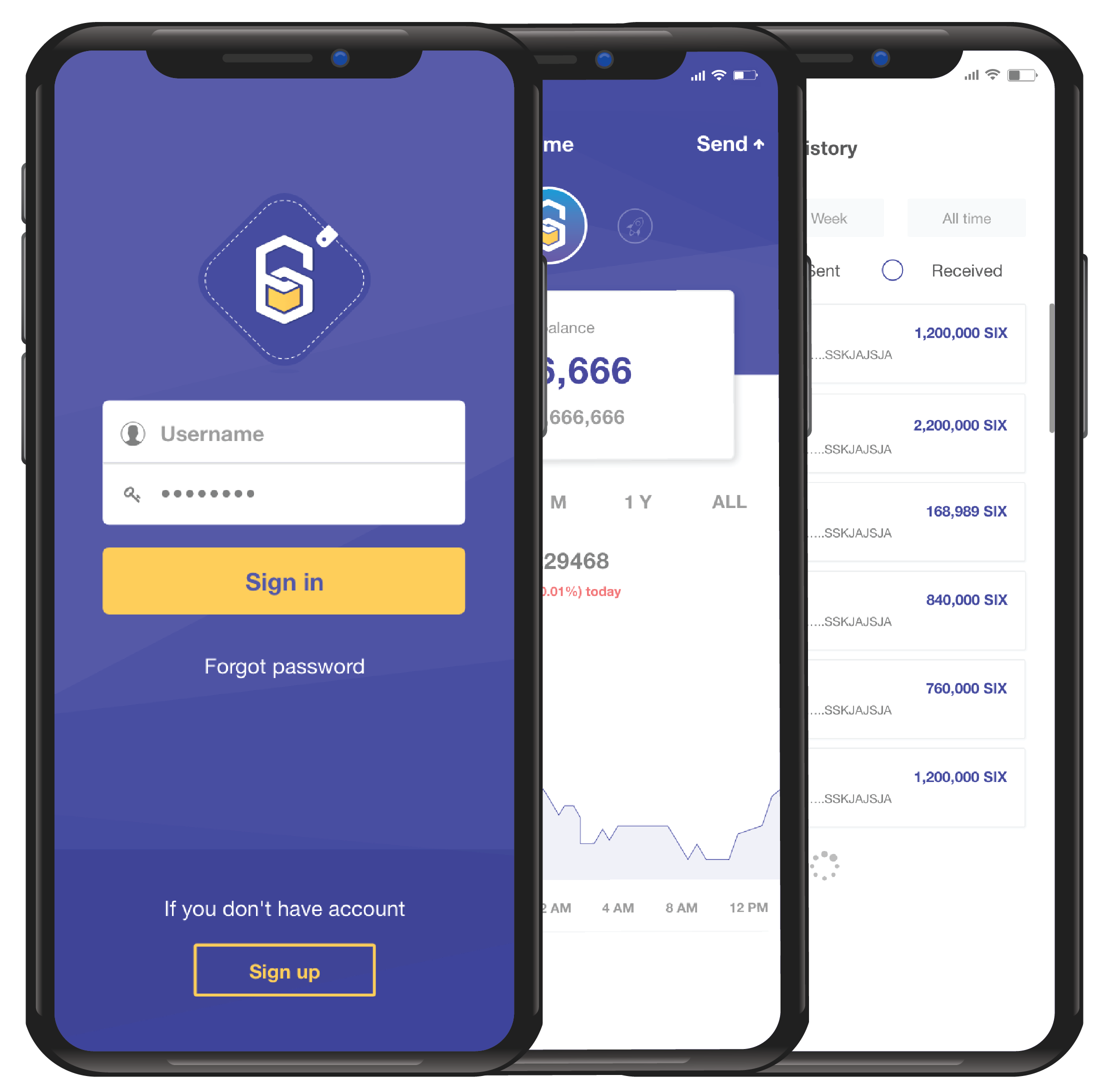 Benefits
Fast

SIX Wallet's average transaction time is less than 5 seconds, making it easy to use in everyday life.

Secure

SIX Wallet requires 3/4 keys between server and client to sign a transaction before broadcasting to the blockchain

Human - centric

Apart from copy/paste long addresses, now that you could easily send money to your friends via @username instead

Universal - wallet

SIX Wallet plan, digital assets can be stored, including movies, music, pictures, and intellectual property.
What we provide
What the program provides is fund in cash and SIX Token which works As-A-Service in the medium of SIX Token. Moreover, the program supports each startup in blockchain technology as well as provides business strategy consultancy.
Program Value Proposition
Startup side

The combination of startup strong point and SIX blockchain technology.

SIX network side

As a blockchain technology company, gaining strategic partner company to connect with the people in the ecosystem while creating the better solution.

Society side

Transparency and decentralized platform that enables everyone in the society. People are now able to audit theirsocial institution as well as an opportunity for raising awareness of intellectual property

Great Opportunities

With extraordinary experience from both of SIX network co CEO.
The founding members of SIX
---
40+

Top digital and creative startups in Thailand, Korea, and Southeast Asian countries as SIX's alliances

1M+

Number of content creators, social media influencers, comic writers, VDO producers, actively working in our platforms

10M+

Number of active users in SIX's alliances' platforms

$4B+

Valuation of over 4 billion USD from SIX's alliances combined

---
Our Alliances and Business Partners
Charkrid Thanhachartyothin

Co-founder, Head of Blockchain

Natavudh Pungcharoenpong

Co-founder, Co-CEO

Vachara Aemavat

Co-founder, Co-CEO

Nisanart Thadabusapa

Co-founder, Head of Finance/ Investor Relation

Pornpat Pewporchai

Chief Technology Officer

Watcharapong Photjaneenon

Operation Lead

---
Natavudh Pungcharoenpong

Co-founder, Co-CEO

Vachara Aemavat

Co-founder, Co-CEO

Charkrid Thanhachartyothin

Co-founder, Head of Blockchain

Nisanart Thadabusapa

Co-founder, Head of Finance/ Investor Relation

Pornpat Pewporchai

Chief Technology Officer

Watcharapong Photjaneenon

Operation Lead

Kamolsit Mongkolsrisawat

Application Support Lead

Karun Warapongsittikul

User Experience Lead

Methuz Kaewsaikao

Blockchain developer

Dr. Polapat Udomphol

Business Development Lead

Sangboon Sangmanee

Marketing/ Legal Lead

Todsaporn Banjerdkit

Technology specialist

Veravej Ornthanalai

Intellectual Property Specialist

Thanapol Asavakul

Lead Developer

Chanamueang Veerawong

Community Manager

Navapon Chitchavarn

Accounting Manager

Napat Mongkonpattarasuk

Legal

Boonyawat Pollert

Senior Graphic Designer

Nantanart Takonuan

Senior Developer

Natthanit Pongpanud

Executive Assistant

Thanyathip Jirapatwarakul

Event Coordinator

Watcharapon Sarnsanit

Blockchain developer

Tanapat Sainak

Blockchain developer

Kyeongseo Mike Hwang

Ph.D - Recommendation Engine Lead

Jae-Hyung Kim

Influencer Marketing Platform Specialist

Seung-Beom Hong

Influencer Marketing Platform Specialist

Changhyun Cho

Investor Relations Lead

Jaewoo Hwang

General Manager, FutureStream Networks

Robert Lee

Deputy Manager, FutureStream Networks

---
Akira Morikawa

President and CEO of C Channel Co., Ltd. Former CEO of LINE Corporation (Japan)

Bhurit Bhirombhakdi

CEO of BoonRawd Trading and director of Singha Corporation

Boyd Kosiyabong

CEO of Loveis music

Choi Siwon

Singer/ Actor in South Korea

David Lee

CEO of Yello Digital Marketing Group

Jirath Pavaravadhana

CEO of BNK48
Akira Morikawa

President and CEO of C Channel Co., Ltd. Former CEO of LINE Corporation (Japan)

Bhurit Bhirombhakdi

CEO of BoonRawd Trading and director of Singha Corporation

Boyd Kosiyabong

CEO of Loveis music

Choi Siwon

Singer/ Actor in South Korea

David Lee

CEO of Yello Digital Marketing Group

Jirath Pavaravadhana

CEO of BNK48

Jonathan Lee

CCO of Yello Digital Marketing Group Former Director of WPP Korea

Khailee Ng

Managing Partner of 500 Startups Founder of SAYS.com and Groupsmore

Korn Chatikavanij

President of Thai Fintech Association

Min Kim

Foundation Council of ICON

Phawit Chitrakorn

CEO of GMM Grammy

Richard yun

COO, Coinplug

Siriwat Vongjarukorn

CEO of MFEC Public Company

Siwat Chawareewong

CEO, GroupM Thailand

Sungjun Choi

COO of YG Entertainment / CEO of YG ASIA

Suphajee Suthumpun

CEO of Dusit Thani Group

Taeyub Kim

CEO of Standard Chartered Private Equity Korea

Thakorn Piyapan

Head of Krungsri Consumer Group and Head of Digital Banking and Innovation Division

Thana Thienachariya

Founder and Director ABC Academy, Senior Executive VP & Chief Marketing Officer at The Siam Commercial Bank

Thanapong Na Ranong

MD of Beacon Venture Capital

Vincent Ha

CO-CEO of Gushcloud International

---