You may have been wondering what kind of "utility" NFTs can really bring to the table since there are many projects in the space, yet everyone seems to focus on delivering their utilities to their NFT holders.
In this article, we will explore the use of NFTs and other possibilities for businesses to understand this ever-changing landscape of Web 3.0.
NFTs Access Passes: What is it?
As these non-fungible tokens exist on the blockchain, they also come with the ability to verify proof of ownership through wallet addresses / Name Services across networks. 
An obvious example of an NFT access pass would be a special kind of ticket to an event. Traditionally, tickets are issued according to the differences in seating and tier based on the time purchased. With NFTs as tickets, an event such as a concert, webinar, or networking event will be able to issue verifiably unique tickets that have proof of ownership with history or transactions stored in the blockchain.

You can see Coachella's NFT access passes as examples here
What is 'special' about these NFTs, especially from a business's perspective?
Using NFTs as tickets for an event can create many streams of value, whether for the event itself, ticket holders, or partners involved. Here's why:
#1 Proof of attendance 
In significant events like Glastonbury Festival, ticket holders must verify their ID with a system to get a physical (with image) ticket to prevent fraud and invalid passes and control the audience's overall safety.
If the said event used NFTs, their ticketing system might be improved since ticket holders can verify themselves with a simple swipe on their phones, making the experience smooth while remaining efficient regarding the event's safety policies.
#2 Utilities for holders & Marketing values for partners
The sponsors/ partners are the hearts that pump the event's energy and the organizers. They play a massive part in shaping what kind of experience a specific event will provide. What the event can do to increase the utilities for the NFT collection and deliver valuable results for partners is to integrate exclusive perks, privileges, or access for the partners and NFT holders. 
For example, the event's NFT holder can access the partner's special VIP area or get an exclusive discount on a certain line of products. This way, holders can enjoy their privileges to the fullest while partners can get in-event traffic with awareness in the Web3 space.
NFT Access Passes in the online world
You may wonder, "Can NFT Access Passes be used in other forms?" The answer is crystal clear, YES!
Apart from IRL (in-real-life) events, NFT access passes can also be used in the online world, introducing the concept of "NFT token-gated content."
What do you mean by "Token-gated"?
Allow us to explain.
Today, we are familiar with exclusive content through subscription services like Patreon and OnlyFans. How it works is the creator creates content and locks it behind a 'paywall,' and then supporters who subscribe get access to the content. 
As per Token-gating, the content will only be accessible to supporters who own a specific token (like NFTs). We already see this happening in discord communities, where the members need to 'verify' a certain token/ NFT to access a certain server section.
At SIX Network, we adopted a similar concept with our holder club, where community members with 5,000 SIX tokens in their wallets can verify themselves and join the club.
You can learn more about it here.
Summary
While NFT ticketing is an obvious real-world use case everyone can imagine, we can all agree that one of the ways to create utility and value for NFTs is for businesses, creators, and projects to consider token-gating the content!
Is this all NFT access passes can do/be? 
One of the things our team likes to do at SIX Protocol is to explore as we try to unleash the true power of digital assets, a world with unlimited possibilities. What we covered today in this article is just the first layer of many more. 
NFT access passes can be used in many other forms, such as newsletters and virtual experiences in the Metaverse. So if you're interested to learn more about all things NFTs, whether for yourself or your business, why not stick around and join our community space on discord?
Join now here: https://discord.gg/kypKmUJv9J
Connect with the SIX Protocol team for business opportunities
At SIX Protocol, we aim to help businesses and enterprises across industries access this ever-changing era of digital assets and Web 3.0. If you're planning to build something on the blockchain for your business, SIX Protocol might be perfect for you.
Learn more about what we do and stay connected with us at sixprotocol.com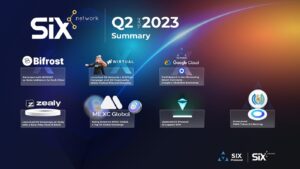 Table of Contents Introduction Welcome to the Q2 2023 recap of SIX Network. This quarter, SIX Network has made impressive progress
Read More
Don't miss out follow us at: